Opower Peak Management: Reducing peak electric demand through cross-channel targeted behavioral messaging
The opportunity: Scale a business-critical product
Opower started out offering behavioral energy efficiency – effectively, helping utilities meet their load reduction goals at lower cost by using targeted insights to persuade customers to use less electricity. Opower Peak Management takes this approach to the next level by targeting customers in close to real time in order to encourage them to reduce consumption when it matters most, at "peak times" during which the grid is under maximal load.
Doing so at scale, however, requires crunching large quantities of data quickly and then delivering personalized communications with low error rates, with clear fallbacks in case things go wrong. I inherited the peak management product line and was tasked with scaling up the business (by figuring out what we needed to build in order to get more clients to buy) and coordinating improvements to our technology and operations to ensure we were up to this new challenge.
The team
I was fortunate to be PM on a highly capable engineering team devoted to the product, and worked closely with them to understand relevant technical limitations and coordinate product strategy across product marketing, client success, and vendor operations.
My role
As PM for the product line, I was responsible for developing a revised go-to-market strategy with my product marketing counterpart, conducting client interviews and market research to set prioritized functionality initiatives and update our marketing approach. Additionally, I worked with the engineering team to define and prioritize product improvements, using user stories to give clear guidance on our approach; with our client success organization, to reduce the amount of time and effort required for product configuration and testing; and with the vendor operations team, to ensure our IVR, SMS, print and email vendors could support our high-throughput requirements.
Outcomes
Using our revised go-to-market strategy, as well as through additional PM support of the sales organization, we grew ARR 50%. At the same time, working with engineering and operations to ensure our technology could meet this challenge, we grew the number of supported clients by 3x and throughput by 2x, all while reducing the number of severe issues.

See also: Opower Peak Management Product Overview

!-- /.doublecol -->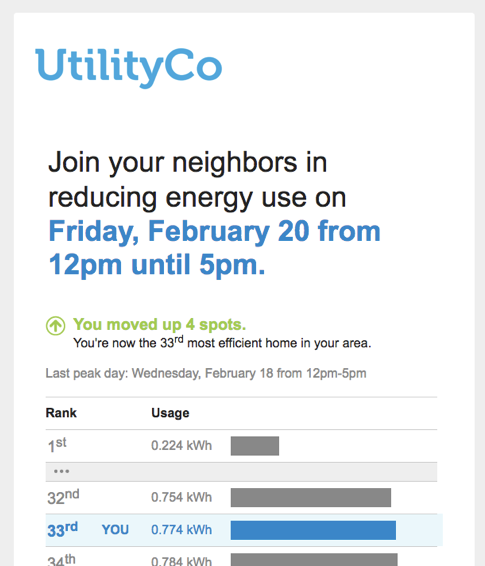 Above: A pre-event email, with a clear call-to-action and behavioral norming meant to incentivize energy efficiency.

!-- /.doublecol -->